Which lottery is best in Nigeria?
12/27/2021 11:53:00 AM
Naira Power is a lottery game launched by EasyWin. The prize is up to ₦10, 000,000. There are always lucky people who have taken away their own prizes from EasyWin.

How to play Lotto Naira Power online?
Pick 5 numbers from 1 to 69 for the white balls; then pick 1 number from 1 to 26 for the red PowerBall.
The online play deadline is 10:00 p.m. Every Wednesday and Saturday. Naira Power draws time is every Thursday and Sunday at 04:59 a.m.
Naira Power winning numbers use the Powerball draw result of America.
Players win the Naira Power jackpot by matching all 6 numbers.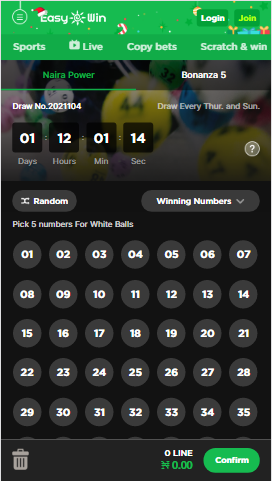 For more information on how to play Naira Power online, please visit the easywin Good luck, and please play responsibly!
The winning numbers

Naira Power No.2021103
Dec. 26 2021 5:00 AM
27 29 45 55 58 + 02
---
The lucky journey is still going on. What kind of surprises will the next Super Lotto bring us? Let us look forward to it together.