How to open an account on the Easy win website?
9/8/2021 7:42:13 AM
How to open an account on the Easy win website? Go to https://easywin.ng. Then click the "Register" button displayed in the upper right corner of the screen. Also, follow the simple steps outlined here. After registering and depositing your account, you will be able to start betting immediately.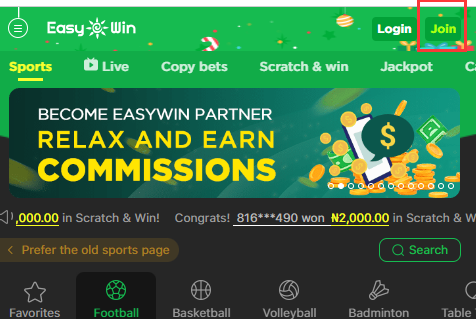 Why do I need to be registered?
Registration on the EasyWin website is a condition for using all the products available on the website.
Registration entitles you to an easy win account free of charge and without obligations. Use the account to manage your bets and personal data. You can place bets with real money after you register.
Does it cost any money to register on EasyWin?
You can rest assured because it's completely free of charge.
How can I register on your website?
To register on our website, visit the "Register" section in the upper right corner. Please be careful and take into account the proposed registration requirements in order to avoid further problems. We recommend that you get acquainted with our rules in advance.
How to Change Password?
visit the "Register" page, click on the "Forgot Password" and follow the steps. You can reset your password with your mobile number.
Can I open more than one account in EasyWin?
No. Multiple accounts are not allowed.
What is the minimum age for betting on EasyWin?
It is strictly forbidden for persons under the age of 18 to open an account in EasyWin and use our services.
Do I undertake any obligations by registering on the EasyWin website?
No. Your registration does not bind you in any way and you are not obligated to make regular deposits or place a certain number of bets. However, by registering you agree to our General Terms and Conditions.