how to play scratch and win?
10/17/2022 12:17:00 PM
scratchcard games
Scratchcard is easy to play, the players match hidden symbols by scratching the surface of scratchcards to win. The scratch game has been revamped and there are now multiple game models to choose from - Lucky World Cup, Merry Christmas, Magic Million, Candy Town, Rocket Slots, Treasure Saga, Sound Of Fortune, Lion King, Football Winner, Football Night, Sports Slots, Lucky Football, Red Hot 7s, Diamonds Red EX, Lucky Shamrocks, Fortune BayCash Chance, Lucky Love, New Year Gift, Plenty of Fruit, Christmas Gift, Fruit Slots, Wheel of Bonus, Diamonds Blue. The stake amount and possible bonuses depend on the selected game type.
start the game
When entering the game, players will see new scratch cards for players to choose from. Prices for these products range from ₦ 50 to ₦10,000. The higher the price of a single card, the higher the jackpot when it is won.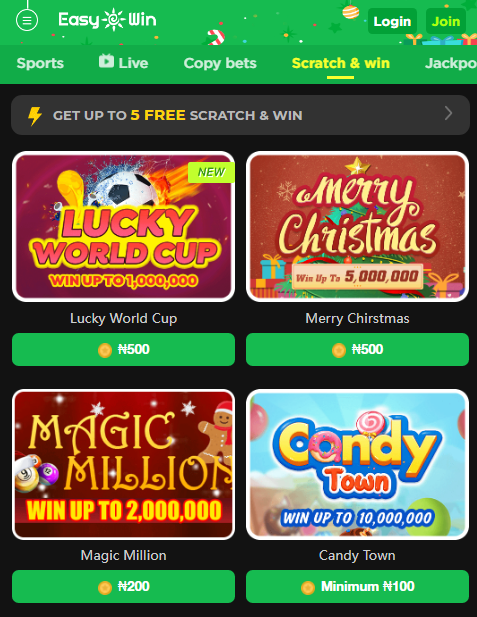 Lucky World Cup
₦500
Merry Christmas
₦500
Magic Million
₦200
Candy Town
Minimum ₦100
Rocket Slots
Minimum ₦100
Treasure Saga
Minimum ₦100
Sound Of Fortune
₦200
Lion King
₦500
Football Winner
₦1000
Football Night
₦500
Sports Slots
₦300
Lucky Football
₦50.00
Red Hot 7s
₦700
Diamonds Red EX
₦2000
Lucky Shamrocks
₦50.00
Fortune Bay
₦50.00
Cash Chance
₦100
Lucky Love
₦100
New Year Gift
₦100
Plenty of Fruit
₦200
Christmas Gift
₦300
Fruit Slots
₦300
Wheel of Bonus
₦500
Diamonds Blue
₦1000
Scratch is a random game of chance that can provide instant results or extended fun, whichever way you want to play it. Every lottery ticket has a chance to enjoy the thrill of an instant win.
Choose your scratch card at easy win scratch games: Discover some exciting features of different games here.
Instant Scratch games are easy to play. Just scrape the designated area with your finger to see if you have won.

Scratch Card Versions
Depending on who is designing and selling the scratch cards, they can be called by different names which help to identify the lottery product itself. For example:
Scratchie
Scratchies
Scratch-Off
Scratch Ticket
Scratch Game
Scratch and Win
How to play
To start the game, press "New Scratch Card".