What does double chance mean in sports betting
8/10/2022 9:00:32 AM
Double chance betting is one of the popular sports betting markets. Double Chance is a type of bet where there are only two possibilities for a Double Chance bet. Is to combine two of the three results into one option. This means that three different double chance bets can be used for each football match: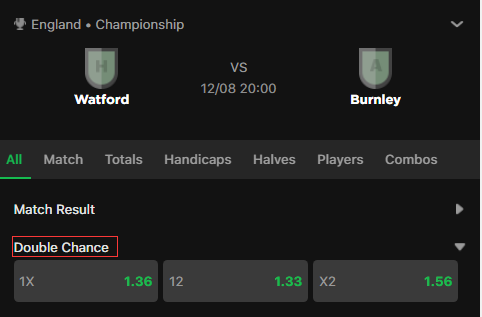 double chance 1x meaning
| option | mean | Bets |
| --- | --- | --- |
| 1X Bets | Home win + Draw | 1x |
| X2 Bets | Home win + Away win | 12 |
| X2 Bets | Draw + Away win | x2 |
Double chance betting is not limited to the world of football but can be found in any other type of sportsbook, anywhere a game can end in a draw. For example, these include (after regular time) handball, basketball, and ice hockey.
After understanding the double chance meaning. Try sports betting! The new season has begun, bet on the Premier League, Champions League, La Liga, La Liga, and Ligue 1!