USA -Wales Betting | Sports Betting | 2022 FIFA World Cup Betting
11/21/2022 12:45:00 PM
Bet on the 2022 FIFA World Cup! This 2022 FIFA World Cup will be the 22nd FIFA World Cup. USA - Wales, this will be the fourth match in the tournament and the second in Group B. At Easy win, you can choose to bet on the most popular online football betting markets, match results, double chance, Total Goals, Both Teams To Score, or correct score.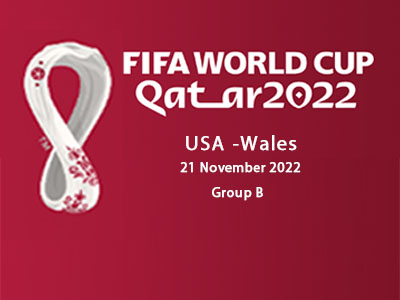 USA -Wales Betting
USA -Wales
21 November 2022 (20:00 )
at the Ahmad bin Ali Stadium in Al Rayyan
Although Wales has Bell, and in recent years, the team's tactics around Bell have been relatively successful. But Bell is a 33-year-old veteran after all, and it is obviously unrealistic to expect him to show his prowess in the World Cup. On the other hand, the U.S. team has not only created a youth storm, but also has undergone a radical change in terms of strength. Even though they are young, the US team has its own advantages in terms of fighting spirit, state, and even physical fitness!
2022 World Cup points and ranking rules:
1. 3 points for a win in the group stage, 1 point for a draw, and 0 points for a loss. The top two teams in each group will advance to the quarter-finals. When two or more teams have the same points, the following rules will be followed for ranking (in descending order of priority).
2. Teams with the same points will compare their scores with each other, and the team with the most points will be ranked first.
3. Teams with the same score will have the most goal difference.
4. Teams with the same points scored the most goals.
5. Only games between teams with the same score will be counted, and the comparison will be repeated according to rules 1-3.
6. Accumulated fair points deducted by the team: 1 point for a yellow card, 3 points for an indirect red card (the second yellow card), 4 points for a direct red card, 5 points for a yellow card and a direct red card, and the one with the fewest points deducted is listed first.